TLDR
I'm putting up nearly 75% of the gear I own for any Seattle based BIPOC individual to borrow for free so more of us can get outside.

Interested? Jump on the app and start using the gear. OR if you'd like to contribute to the growing network of gear, or start your own collection in your city, send me a text at 206-607-9366 or email me at michael@communitygearbox.com.
🚨 Go disappoint yourself and google "BIPOC Pacific Crest Trail." 🚨

You will find an image like the one above, or info below that shows 30.4% of BIPOC hikers experienced discrimination on the PCT.
(Image courtesy Marie Draws, a PCT thru-hiker. Find the photo series here.)
If unfamiliar, the Pacific Crest Trail stretches 2,650 miles along the western United States and is one of the three "major" hiking trails in the US. People take five to six months of their lives to try and hike it.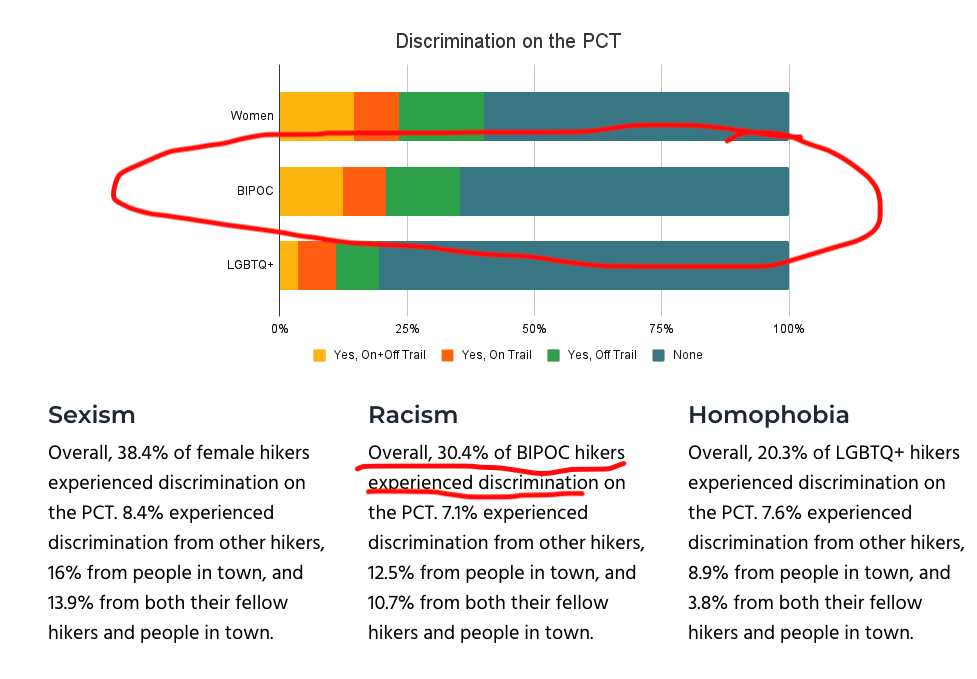 I figured since it was the start of April, the month when the majority of hikers start the PCT, I'd write a post about my thoughts. I write this article with bittersweet nostalgia.
My best friend and I successfully thru-hiked the PCT in 2018 (three photos show beginning, middle and near-end), and for a decent majority of the hike, we consistently ran across a guy with the trail name "Rebel" who did, in fact, hike with a confederate flag.
I think about race pretty frequently because I live in an openly BIPOC, LGBTQ+ friendly household with 10 other housemates. 
What's weird is that after living here for 5 months, yesterday one of my BIPOC housemates called me a "basic white male." 

My other housemates in the room looked at them incredulously and said, "no, he's Asian. He's half Japanese." 
Comments like these — someone with darker skin calling you white — are weird, but then again I've always been at the intersection of privilege: 
growing up on Bainbridge Island with a good school system; 
having "white" skin, where people just said "how are you tan in winter?"
and going to an outdoorsy high school and college.
I never felt out of place growing up on Bainbridge, even though it's 90.2% white, and actually pretty similar to the demographic makeup of the PCT.

But that doesn't mean I've never experienced racism or "micro aggressions." At one point, I had a Bainbridge dentist tell me that I likely had jaundice because she noticed my skin was yellow-ish, and I brushed it off. I didn't have the gumption to correct her by saying I'm not white. But I was more likely infected with jaundice than Asian. 
Privilege manifests differently for different folks. Growing up on Bainbridge I had family and friends and a school system that took me outdoors. But coming from a working class family I still had to scrape together $7k of savings to take five months without work to hike the PCT. The image below showcases the mean cost to hike the trail.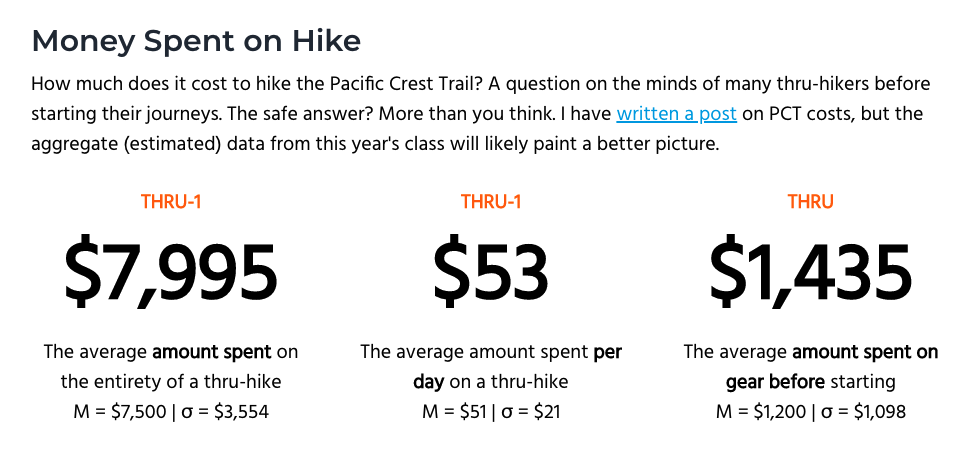 Talk to any less fortunate BIPOC individual, and having an extra $8k and 5 months to not work is impossible. Heck, the backpacking gear itself is $1,435. Not "affordable" by any standard.
Lack of BIPOC visibility, ease-of-access and the high entry cost of getting outdoors decreases BIPOC participation. Without getting too in-depth, I attribute historical institutional racism such as job discrimination, redlining and unequal educational opportunities to why we're here in the first place.
It's simple:
more intergenerational wealth = nicer home = closer to nature = more discretionary spending = nice outdoor gear.
less intergenerational wealth = worse home = further from nature = no extra money = worse/no outdoor gear.
In fact, BIPOC folks are 3x more likely to have no immediate access to nature compared to their white counterparts, and black people remain the least represented outdoors. 
So it's really no surprise that of the 654 hikers that hiked the PCT and submitted the survey, (86.5%) 566 of them were white, and only (0.4%) 2-3 of them were black.  
This is one of the reasons my BIPOC (half-Filipino) cofounder and I are launching the BIPOC Gear Library – to increase the percentage of BIPOC individuals participating in outdoor activities by providing free gear.
In the group you'll find a growing collection of outdoor gear, free to use if you're BIPOC. From crash pads, hammocks, bear canisters, to even a kayak, we plan to continually add more and more gear each month… 
We're here to pay it forward. In its initial release you'll find stuff that I hiked the PCT with, gear from college and more.
So if you live in Seattle and are planning your next trip or are curious about getting outside for the first time, jump on Community Gearbox and join the public group. You'll find a bunch of gear you and your friends can use. 
I hope you benefit from it, or maybe you can spread the word.
And if you'd like to contribute to the growing network of gear, or start your own collection in your city, send me a text at 206-607-9366 or email me at michael@communitygearbox.com.