You're a college student, maybe going to a local state school, or maybe you traveled across the country to attend some private school. In either case, you aspire to make lifelong friends, learn new skills, and ultimately land a high paying job after college.
But college isn't cheap. And for four years, you might be without parental help, working part-time to cover living expenses. So how do you stretch your extra spending money? 
Turns out that college students use Community Gearbox to save money and make friends along the way.
"Community Gearbox was built with college students in mind," says Josie K. "I got to easily borrow some camping gear from my college sorority friends to go to the Bonnaroo music festival last year. I didn't even know they had it in the first place."
Three Ways You Can Use Community Gearbox:
To share items among pre-existing groups like dorms, greek and extracurricular groups
To organize and share items for bigger events like music festivals or outdoor gatherings
To track and repair damaged or lost items
1. To share items among pre-existing groups like dorms, greek and extracurricular groups
If you live in a residence hall, fraternity, sorority, or are a part of another extracurricular group, you probably already have some friends in those groups. Your friends can accelerate the adoption and potential of Community Gearbox! 
For example, Josie quickly realized who had access to vehicles, or who had the TVs when she got to college, but she didn't know how many more items were out there. Cornhole sets, bocce ball sets, bartending books, all sorts of things started popping up.
Your have friends with hidden treasures too!
Her friends started linking what items they had and wanted to share with their residence hall friends. That was Joey who had the TV, Tessa providing the Nintendo Switch, and Johnny providing the disco ball. And after ten more college friends in their dorm joined up, they had enough to have a really fun video game/outside yard game party.
You could have any type of community: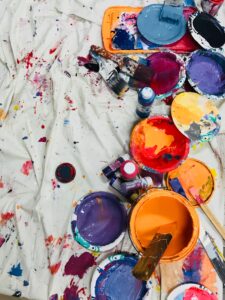 Are you an art student? Link up your extra painting, drawing, or photography supplies. 
Board gamer or avid reader? Post all your different board games and books into one giant collection.
Movie aficionado? Pool together projectors, speaker systems and computers.
A greek enthusiast? Share textbooks or party supplies with other brothers or sisters.
An outdoors fiend? Share and link your outdoor gear. 
Community Gearbox also lets you try new hobbies or activities without having to spend a lot more money. Into climbing but want to get into cycling? Some of your outdoor friends who already cycle probably have extra cycling gear, like gloves, jerseys, or even bikes!
You might have an eye opening experience like Josie did with Bonnaroo. "I had several friends who had plans to go to Bonnaroo, and the lineup looked so good, but I knew tickets were already $400. I didn't have any camping gear and couldn't afford to pay more… Turns out that my dorm friend three rooms down had extra camping gear and let me borrow it!"
2. To organize and share items for bigger events like music festivals or outdoor gatherings
While most college students link together items to build kits and collections within groups of people, you could use Community Gearbox to coordinate gear for a music festival or larger gathering. With the app you can create an event you want to host two weeks from now, and indicate which items you're supplying and which items you still need. Anyone in your community (dorm, friend group, extracurricular group) can add items to the event, so everyone will know what is available.
The options are endless. You could coordinate large spring break parties, music festivals, outdoor trips and gatherings, all without having to spend the extra money for items you're only borrowing for one week. 
3. To track and repair damaged or lost items
And lastly, you know the dorms are a fun and busy place. New friendships are formed, adventures are had and late nights are spent studying (as well as partying). In the midst of it all, your friends might ask to borrow your climbing shoes, chemistry book or even a car for the weekend. And you might give them the green light! 
The problem arises a week later when your chemistry book hasn't been returned, or the climbing shoes come back with a tear in them and the car smells a bit different. 
With Community Gearbox, these aren't a problem because as items are shared through our platform, you and your friends agree to clear and simple terms for lending and borrowing. When something is about to be late or already is, you and your friends have timely notifications. And in the case that something is damaged or not returned in the same condition it was lent, we'll help you resolve it.